Are you having problems coming up with a topic?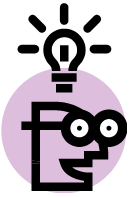 Look at published articles in journals like:

American Sociological Review

Sociological Focus


Look in a reference book for a overview of a topic:

Blackwell Encyclopedia of Sociology
REF. HM425.B53 2007

Encyclopedia of Social Theory
REF. HM425.E47 2005


Sociology reference books are also available online in:

Sage Reference
Identifying Your Variables
Topic vs. Variables
Once you have a topic, go a step further: identify the variables that can be measured. As you have learned in class, there are two types of variables:
INDEPENDENT: the variable that causes or influences the outcome
DEPENDENT: the variable that is affected or influenced (by the independent variable)
You'll need at least one of each to create a hypothesis. Also, it's difficult to know what to search for in Sociological Abstracts until you think about your topic in terms of variables.


---

Example:

Topic: I'm interested in the attitudes of different ethnic groups towards the aged.

Variables:
Independent: ethnicity
Dependent: attitudes toward the aged
Hypotheses:
H 1 : Attitudes toward the aged are related to ethnic background.
H 0 : Attitudes toward the aged are not related to ethnic background.